Make a Content Marketing Strategy that Converts: How to Guide
What is a content marketing strategy?
Before you dive into what a content marketing strategy is, it's best to understand the fundamentals of what content marketing is.
Content marketing is the practice of creating content for a targeted audience to draw consumers to your brand. To find out more, check out 10 Valid Reasons Why Content Marketing is Important for your Business.
A content marketing strategy is the management of any content marketing of media that is created in text, visual, and any downloadable format.
The content marketing strategy is your overall marketing plan of how you strategically incorporate content ideas to showcase your business, products & services, and expertise in your industry.
You might have come across content highlighting the importance of content creation and content marketing online, however behind quality content lies purpose and the planning stages before it is being distributed online for the world to feast on.
While developing a concrete content strategy, here are a few questions you should keep in mind:
1. Who is reading your content?
Who is your target audience for this content? How big of an audience are you targeting?
If your business appeals to more than one audience type, curate your content to reach these specific groups. 
2. How will you solve your audience's problems?
Identify the common issues and pain points of your audience and try to cater to their needs in providing solutions to their problems. Like for instance, what are the Do's and Don'ts in digital marketing they should keep in mind?
Good content will serve as a guide to walk them through and educate your audience, helping them identify their issues and to address them.
3. What is your unique selling proposition (USP)?
What's important is to identify what makes your brand stand out from its competitors. If your competitors have similar products or services as you, find a unique quality about your product that will make your customers choose you instead of your competitors'. This is when your content comes in to sway your customers to choose your brand. Use your content to prove why you're worth buying from.
4. Choose your rightful content format
 Content marketing comes in many forms, from videos, blog posts, emails, infographics, etc.
Identify social sites your audience frequently associates with to select the rightful content types and budget to reach your audience.
5. Which social sites will your content be on?
Concerning the previous point, you need to identify suitable platforms for your content formats to be published on.
These platforms may come in the form of a website or blog, social media sites such as Facebook, Instagram, TikTok, and many more.
6. How will you create & distribute content?
Coordinating everything together like content creation and distribution can be very tedious to stay on track.
It's important to highlight which content goes on which sites and when do you want it to go LIVE.
It can be content clutter if you don't organize or allocate your content properly. Planning content requires ideas, thought, and strategy and the best way to do it is with a proper editorial calendar, and each topic must have a specific objective, message, and purpose. We will show you how to create a social media content planner aka Masterplan. 
Why marketers and businesses must create a content marketing strategy?
Let's give you the facts first before we proceed to some concrete reasons why it's profitable for your business.
Based on the statistics from Hubspot, 70% of marketers are spending on content marketing because it yields promising results, to the point where 78% of companies allocate a team of one-to-three content experts, and web traffic is among the top 2 most common measurements of success about content marketing strategies.
Content marketing enables businesses to organize and plan more cost-effective ways to generate leads and website traffic.
By creating a blog post that brings value in terms of content to its readers, has a sufficient amount of organic traffic, and a link to a whitepaper or tool, it will continue to bring in leads for your business in time— steadily becoming a reliable form of traffic.
This will give every marketer or business more room to experiment and adopt new marketing strategies to generate revenue through sponsored content, new technologies, social media advertising, and to curate their content according to the interests of their target audience.
This is when the term evergreen content comes into play. Evergreen content refers to content that remains relevant way past the date it has been published. Evergreen content grows traffic with time.
There are three main reasons that evergreen content can bring for blogs:
Due to the quality and timeless content, this type of content will rank well on search engines over time. Content writers have to make sure their content is well-optimized with specific keywords used to rank high on the search engines.
Evergreen content usually gets high ranking positions and gets discovered more easily which means it is a steady and continuous form of traffic directed to your website and blog.
Evergreen content can continuously generate traffic and leads and when optimized, they tend to generate leads over time. This type of content is valuable because it is sustainable content, even long after its published date. That's why it's healthy for blogs to produce evergreen content that is genuine, useful, and relevant for the readers. It promises traffic to your site, leads over time, and is good for SEO.
The content you've created will help create awareness, attract potential leads, and educate your targeted audience more about your brand.
Need help with creating Evergreen content for your business? Engage with a team of digital content experts! 
How to create a content marketing strategy that converts
Quality content is hard to come by and no matter how good, it requires a solid strategy behind it. Many marketers rush into making it work and do not get the results they had hoped for.
A successful content marketing strategy requires patience and is well-crafted, documented, and executed with precision and thought. Many marketers out there are still winging it with ideas and cliché efforts and no proper documented strategy.
In this day and age with technology, social sites, and choices, marketers and brands face immense competition. Some brands are good at leveraging on current trends more so than others — and I don't think you want to be left behind.
Let's dive into the specific steps needed to create a successful content marketing strategy.
1. Define your goals
Firstly, you must ask yourself, why are you developing a content marketing plan? What is the purpose of creating a content strategy in the first place? What do you intend to achieve from this content marketing plan?
If you can't answer these questions, you should consider re-evaluating your goals until you're dead sure.
Define your goals so you can proceed to determine what's best for your content strategy.
With content marketing, you can achieve various goals and you have to be crystal clear with what exactly you're trying to achieve. In other words, how can you get content marketing to help you achieve these goals?
When defining your goals, it's best to apply the SMART goal setting framework to set measurable goals while also providing you the necessary structure to get there.
Here is a guide on how to apply the SMART Framework to your strategic planning.
As a marketer or business owner, you need to keep it direct and very specific when it comes to setting your goals. For example, you want to gain more social media followers for your brand. To do so, you need to work on your content marketing to suit that specific goal so people will be interested in following your brand.
Thanks to technology, your goals are no longer following traditional methods of tracking. In digital marketing, we can measure according to the key performance indicators known as metrics that you will have to monitor to check your progress. For example, you can use a social analytics tool to measure your content engagement, such as the number of likes, comments, shares, and more.
Goals must always be realistic and actionable, but of course a challenge at the same time. Nothing great comes easy. Set goals your team feels motivated to achieve and not the other way round. For instance, if you gained 20 social media followers per month and your goal is to aim for 1,000 followers the following month, that would be a little too farfetched. Talk to your team about what they think is a realistic goal to set.
Make sure you are fully aware of why you're setting these goals and make sure it will contribute and support your business as a whole too. It would be best to align your marketing goals to have a good impact on your business goals too. If your business wants to be discovered in a competitive market, you will need to align your marketing goals to see how you can get the business to build more awareness and stand out.
The final part is crucial because setting a specific timeline to achieve your goal will determine how you will spend time on aligning your efforts according to the timeline to meet your content marketing goals. For example, you're preparing for the Black Friday sale of the year and you want to leverage on the hype with a one-day promotion, so you will need to coordinate when each product will be promoted leading up to that day and what social platforms will you be using to promote those products. It's crucial to plan ahead of time to avoid disruption. Marketing campaigns are always time-sensitive so you must strategize your promotional content on social media leading up to a specific day to keep your audience in suspense to maximize impact.
2. Create a buyer persona
Identifying your audience is probably one of the biggest aspects of content marketing. You need to know who you're targeting your content to, their interests, dislikes, social sites they frequent, and much more than the average demographic.
It clearly defines the type of persona your content is talking to and also will naturally give you an idea of what tone and manner you would like to reach out to your audience with.
By knowing who your audience is, you have a clearer direction and can create more relevant content that will convince and convert your audience.
If you're an experienced marketer and you find that your target audience has shifted, it's never too late to target a new audience but best to make sure you conduct some market research to gather valuable information to form a thorough buyer persona profile.
Here's an example of an informative buyer persona.
3. Conduct a content audit
When it comes to online marketing, your SEO is one of the most crucial aspects in terms of how you reach your audience. Marketers and businesses both make the mistake of considering SEO as a once in a while protocol when it should be more frequent and continuous for the sake of website improvements and to keep track of a successful SEO strategy.
Interestingly, Buyer behavior is more unpredictable today in terms of how they search for products or get their knowledge, so marketers or brands have to be more than prepared to optimize their content when necessary. It is all subject to constant change due to the ever-changing behavior of consumer behavior.
Marketers and brands have to be hands-on if they want to optimize their content for their targeted audience.
For instance, back then it was common to use your desktop or notebook to conduct your online research at home or in a café. But today, the scene has shifted as the rise of more social media apps are available, leading to higher usage of mobile phones. The users in industrialized nations use their smartphones to search for information and products online.
Due to this, marketers and brands must make sure their websites are fully ready for mobile optimization to ensure that their mobile users have an optimal experience with their brand.
According to statistics, smartphones are becoming more of a main source of information and plays an important part in the daily lives of people worldwide and has already reached 3 billion users and counting.
SOURCE: Statista chart
Also, Hubspot claims that the average user demands a faster loading speed, and apparently, 40% of users leave a website if it takes more than three seconds to load. This gives marketers and brands more of a reason to go with the hands-on approach with their content audit.
SOURCE: Hubspot statistics
4. Create a content management system (CMS)
You don't want your precious content ideas vanishing here and there or by forgetting to jot down in your notes something killer that you crafted in your head that might have potential. The best content ideas come when you least expect it so hold on to that notepad of yours!  You must create a system where you can create, manage, monitor your content, publish, and schedule it all in one place for your peace of mind.
Every company has its type of content creation team and it varies from one business to another; some even go back to basics like Microsoft Excel, PowerPoint, and more.
A software system like Hubspot CMS would be great if you're looking to keep track of all your social media efforts in one place from content creation, publication, and the analytics of your content performance.
5. Brainstorm it!
To be honest, inspiration doesn't come easy — ever! Churning up compelling ideas and content that hit the soft spot of your audience is no easy feat. There will be times when you will lack inspiration, so you have to be disciplined and rely on some valuable sources. Create content by offering value that makes them tick! Here are some places to seek creative inspiration for your content.
Scan the digital marketing blog scene and check out blogs that rank high on search engines.
Sometimes when you're stuck in a content rut, you have to check out what your competitors are doing and beat them to it by creating more value in your products and services.
For example, Apple was not known for creating phones in the mobile industry, so basically what they did was that they revolutionized the mobile phone industry with all these savvy apps and completely transformed the way users use their phones and live their daily lives.
Social media and the user-generated content on social sites will serve as your ultimate weapon as it stems from the customer's opinion about your brand — good and bad. This will allow you to understand what type of content they react positively to. You can also check out inspiring content from brands that ignite that spark in you.
In content marketing, what's big now are AR filters and how you can create your own. The opportunities are immense with this type of content and brands and marketers should leverage from this by creating their own branded filters and staying relevant to their ideal audience.
SOURCE: Brands can now create their very own branded Snapchat AR filters.
You can also get another angle of content idea with Buzzsumo, as they offer several market research tools that will highlight popular content that is liked by the audience which gives you an estimate of what content ideas work.
6. Choose which content type to use
In content marketing, there are a variety of content options to choose from such as blogs, videos, emails, and more.
However, do keep in mind that each content type differs in the way they convey a message, so marketers and brands must identify different ways of expressing their content through these channels, and also the tone and manner might be slightly re-purposed to fit into a specific content type and audience.
We will explore more content types in the following section. Stay tuned!
7. Set up a social media content calendar
Your content strategy should be out-of-the-box and ignite your creativity. Remember, you're not limited to one type of content and ad type, you can explore your options through the spaces that you feel are inspiring.
Most importantly, before you even choose the type of ad content and ad format, you need to create a social media content calendar to keep track of and measure your performance.
When strategizing for your social media content calendar, include these factors:
Date: E.g., 14 November 2020.
Objectives/Description: E.g., Pavilion outpost to drive traffic to outpost
Caption: E.g., Calling all makeup professionals and hair enthusiasts in town!
Format: E.g., Static image, Lifestyle video, GIF, Cinemagraph, etc.
Note: E.g., Boost post!
You can either construct your own according to what suits best for you or you can check out some free templates online that will simplify your process for publishing an effective and well-rounded content strategy by staying up to date with the important dates, festive holidays, black Friday sales, and important moments such as Christmas, New Years, and any you deem is auspicious enough to leverage on for high-engagement and that would yield great results.
Here's an example of a complete social media marketing content calendar.
SOURCE: Social Media Content Calendar.
Trending types of content marketing
1. Blog posts
You are aware that this is a blog post, right? Well, if you're not, welcome to this blog post and keep reading on for more juicy insights on other content forms because you're going to need to bask yourself in all that creative knowledge!
Blog posts keep it personal and professional at the same time when communicating with your audience but with a strong purpose to relay valuable and relevant information in hopes to solve the audience's problems or to answer their concerns.
Typically, the advantage of a blog post is that marketers or brands can educate their audience with quality topics that aim to help the readers. And there is no set limit or rule as to how many pages it can go on for, but an average blog could range from 1,000 to 2,000 words, or perhaps more if the content writer needs to describe scenarios, success stories, or provide examples, and a lot more. It all depends on the level of detail required to successfully relay the information to the readers.
Interestingly, statistics point out that companies who blog get 97% more links to their websites and that blogs are rated the 5th most trusted source for information online. To top the stats further, 66% of bloggers today are publishing several times a month, rather than a few times a week like back in 2014 and 77% of internet users read blogs. Now, this is a straight giveaway that companies must invest time in the blog department.
The advantage of blogs is that they seem more personable, subtle, and show more without being hard-sell by providing useful links to the readers and it's entirely up to the readers to click on the link if they feel it solves their concerns.
However, it would also be good to experiment with different to observe if your audience prefers shorter or longer reads, then you can tailor it to a convenient length for them, if possible. The stats say that bloggers who write 2000+ words are more likely to produce strong results.
Blog posts with intentions to be active should provide interactive and engaging topics regularly to attract visitors to the site and also serves as a useful tool to describe situational circumstances where the potential leads and visitors will consider your brand as the main source of valuable information they will likely share on social media or across websites.
I would advise any marketer or brand to create a blog on WordPress due to its robust features and is easy to customize with themes and Plugins.
Here's an example of a killer blog.
SOURCE: A Girl In Progress Blog
2. Case Studies
To be frank with you, content marketing isn't rocket science, but there's definitely a type of sorcery behind it when it comes to understanding your target audience and solving their emotional pain points.
The whole process of strategizing the right type of content, the production, the constant tweaking and need for optimization, content audits, and more is definitely a hands-on affair— and many brands don't practice it holistically.
As a marketer or brand, you and your team are responsible for reaching your specific audience at the right time with the right content for that kapow effect!
Sometimes, when we give our ideas a thought, it seems feasible, then when the results come, It doesn't seem to match our expectations or wasn't as great as we thought. It takes time to develop this sorcery, so don't be discouraged, let's take a look at a brilliant case study because it tells a story of proven and successful moments in a specific marketing campaign and it documents historical moments of brands and their concepts that made an impact. A case study is used as proof that specific marketing strategies that were used in a certain way were proven methods of success.
Here's an example of a successful case study content by JetBlue Airways.
JetBlue leans into passenger concerns
The Problem
The airline industry has taken some PR blows, tampering with its reputation. From lost pets to constant delays, not enough legroom, and many other common human issues that needed to be addressed pronto.
Given the circumstances, it would be fair to think that the luxury or premiere airlines would try to solve this issue right away with their lavish frills and customer service.  But not at all.
The Objective
Low-cost airline JetBlue saw an opportunity in this and to combat the existing issue, they created several campaigns to address the most common in-flight issues such as flying etiquette, stinky food, and many more
The Strategy
JetBlue created a series of videos to tackle the issue and went for a content marketing strategy that focuses on the human experience and treating their audience like actual human beings. Let's take a look at their campaign video "Flying Etiquette" which relates to every human being!
Their content is well-crafted, thoughtful, and communicates its brand values to the bone.
The Takeaway 
As JetBlue has shown, most of the time it's better to lean into your customer's issues and address them straight than to ignore them completely, which would most likely be the downfall of any brand.
Acknowledging your customer's concerns through a long pile of complaints and showing that you're there to solve their problems is all a customer wants. JetBlue has done a great job using this to their advantage by turning problems into a powerful content marketing strategy. Bravo!
Here's a video that relates to common issues every passenger by the window seat experiences (I can totally relate). Check it out!
SOURCE: JetBlue Airways – Flying Etiquette Video
3. Infographics 
Infographics are definitely a colorful and fun way to organize and visualize data in more impactful ways than just words alone. Infographics serve a purpose and that's to convey data in an understandable way. Take this striking one for instance! It is surprising to know that there are 188 million emails sent and 4.5 million Google searches every minute. Amazing! Data never sleeps, huh?
According to statistics, the brain processes visual content 60,000 times faster than it does for text which makes infographics the best way to simplify complex information and is really effective for B2B marketing.
Here's another cool Infographic on Facebook Statistics. Click here to have a look!
4. Videos
Video content is probably the most powerful type of content that involves a good balance of content, motion, sound, and whole aesthetics. It is a highly engaging content source and is easily shareable on social media platforms like Facebook, Instagram, Twitter, and more.
However, it comes with the price of time, written content, and preparation if you want optimal results and crazy engagement for videos.
According to sources, visual content is 40X more likely to get shared on social media than just plain text alone. Based on a survey with 3010 respondents from HubSpot's content survey, 54% of the audience think that video is the most preferred form of content from a brand they follow or support, which is a given because it definitely captures the audience's attention and leaves a seamless finish. Like this tastefully done Instagram video ad here by Havenly.
SOURCE: Instagram Video Content.
5. Podcasts
Podcasts are a unique type of content type in the form of a digital audio file that is available on the internet to download on a computer or mobile device and is usually available in the form of a series or other forms of content where people are subscribed to your podcast channel.
According to the eMarketer, 2019 statistics, 54% of podcast listeners have a higher chance to consider buying from a brand after hearing its ad on a podcast. It certainly helps to increase brand awareness.
Another fact is that 43% of podcast listeners discover new shows through social media or an online community.
Starting a podcast is an additional tool that will literally give the audience a feel of your brand voice and what you represent. It's also practical for your audience if they don't have the time to read content daily.
Here's a great Podcast example by Fear Factor host, Joe Rogan discussing about life and religious beliefs with famous actor Matthew McConaughey. It's indeed gripping!
SOURCE: Joe TV host Joe Rogan discusses Matthew McConaughey's religious beliefs.
6. Social Media
Social media is a lucrative haven for marketers and brands to showcase what they're all about and to express themselves.
If you have existing content marketing on your site such as a blog, you can easily repurpose your content to suit other types of social media platforms. By distributing your content on social media platforms, you are reaching out to your target audience that you already know about in terms of which social sites they frequent consistently.
The best part about sharing on social media platforms is that you might identify a potentially new audience as well through wider reach.
Here's a list of social media types for businesses to be on:
Bear in mind that this is just a list of trending social media sites that marketers and brands are on. Before you dive right into incorporating them into your social media content strategy plan, make sure it's a suitable extension for your brand in terms of your target audience in the respective social sites and whether you are willing to invest time with content creation.
For Facebook, it's a little broader and more general so you can share your website content or blog links. Or you can choose to go for images, products, promotions, and more.
Here's an example of a Nike page on Facebook.
For instance, Instagram is a lifestyle and visually oriented platform, so the focus is on high-quality images, graphics, high-quality videos that show off the brand's qualities and create user-generated content and social proof for other followers to see. Industries like boutique or lavish five star hotels do well on this platform because the site pronounces it well. Take a look at St Regis Kuala Lumpur's Hotel Instagram page. It just screams out FANCY!
Most importantly, with social media, it's best to do your research on the social site you want your brand to be on and it takes time to build a following and grow a successful content marketing strategy.
Need help to strengthen your social media content strategy? Let's talk social!
7. Ebooks
This content type is a lead generation tool that existing and potential customers are allowed to download after they fill up a form with their particulars.
EBooks are generally more in-depth and thorough, similar to a book. EBooks are not published as frequently as a blog post as it takes time for research and writing. But once published, its sole purpose is to attract visitors to the website.
EBooks are considered the next step in inbound marketing, so after reading a blog post, visitors might need more information.
This is the part where calls-to-action (CTAs) come into the picture to direct people to a landing page where they fill up and submit a form and download an ebook to gather all that valuable information. Your business has all the contact details from the readers and is seen as a new lead for the sales team to reach out to.
Here's an example of a Kindle Ebook entitled "If You Tell: A True Story of Murder, Family Secrets, and the Unbreakable Bond of Sisterhood Kindle Edition" by author, Gregg Olsen,  rated number one on Amazon.
SOURCE: If you tell Ebook by Gregg Olsen
How to build a content marketing funnel for different stages of a buyer's journey?  
According to statistics, 87% of marketers create content specifically for different stages of the customer journey — and for good reason.
Understanding which type of format works well at each stage will drive optimal results and increase your success rate in providing valuable insight to your audience and strengthen your content marketing strategy for your business.
Let's dive into the content marketing strategy at different stages of the funnel:
Top of the Funnel (TOFU): Awareness Stage
At the TOFU, it is considered the initial point of the buyer journey and the most happening stage. At this point, most people are not ready to purchase and are still learning about your brand as it is still new to them.
As a marketer during the TOFU stage, your goal is to create awareness and attract attention and offer the best response and slowly introduce them to your brand.
Based on the survey conducted by SEMrush, 72% of marketers used 'How-to' blog guides to attract attention at the top of the funnel and solving the consumer's pain points, or answering their questions. This shows that your brand is the industry expert and keeps the anticipation there.
The most effective types of content at this stage would be educational content, infographics, checklist, eBooks, and even social media updates or email marketing have been proven to be effective in this initial stage to reach out.
Middle of the Funnel (MOFU): Evaluation Stage
During the MOFU stage, the funnel narrows down and so does your audience. The audience in this stage is a smaller and more focused audience that is receptive to interaction and you will need to do your part to encourage them by guiding them through the initial idea to comprehending in-depth how your solution will solve their pain points.
It is apparent that during this evaluation stage, product-oriented content, case studies, landing pages, quizzes, surveys, online webinars, and more. They are all effective strategies to keep your audience thinking about your brand and generating leads.
However, this stage is all about lead nurturing so your goal as a marketer or brand is to keep your audience engaged with your brand. This can be done in the form of email marketing which proves to be 72% effective.
This is the stage where you must nurture your potential leads by providing them product-related content such as successful case studies, and even product overviews showing creative ways of using your product so they can visualize themselves using it.
At this stage, it's all about leads and conversion rates. Your duty as a marketer or brand is to ensure you convince and convert them with your most powerful content resources.
Bottom of the funnel (BOFU): Conversion
At the bottom of the funnel, it is considered the end of the funnel and during this stage, your content is all you have to convert your leads.
Build trust and answer specific questions like a product demonstration of how it works.
To close your customer, rely on your most powerful content resources to pull them in such as with a case study again. Apparently, customer-generated content is very effective at this stage, so send them a customer story or experience as it gives them the confidence to make a purchase decision and act on it.
As a marketer or brand, just try to utilize your resources to help your customers make an informed decision. You can send it to them via email or based on any contact details you have to reach them with.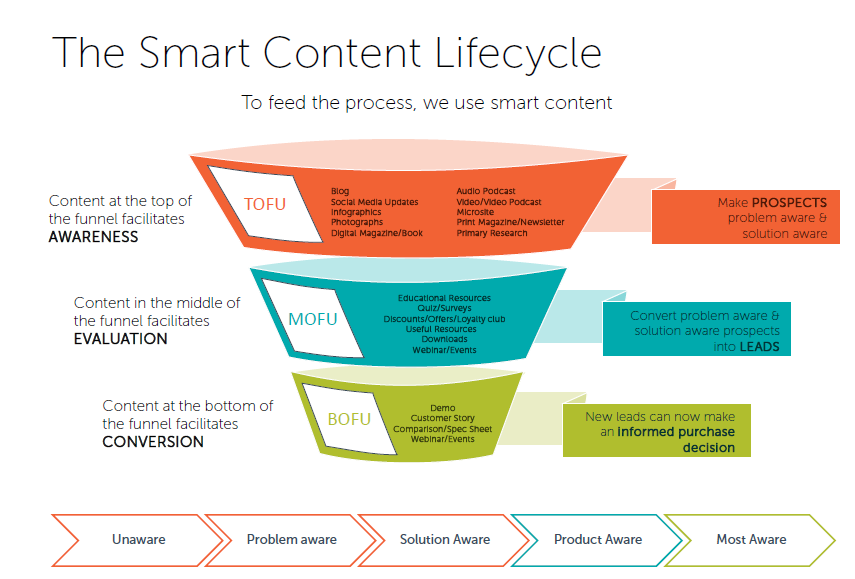 SOURCE: Content Marketing Funnel.
Conclusion
By now, as a marketer or business owner, I hope you're convinced that content marketing is worth every inch of your time and every penny as it is an important asset for every brand to incorporate into their content marketing strategy when it comes to upcoming campaigns.
As mentioned, 70% of marketers are spending on content marketing because it makes your brand look good and yields great results!
Content marketing requires dedication and an in-depth understanding of your target audience in order to plan how you want to communicate your brand to them in order to build awareness, generate leads, and grow your website traffic.
Want to convince and convert your audience with your brand content? Let's connect!