Ultimate Resource Guide for Twitter Marketing
What is Twitter?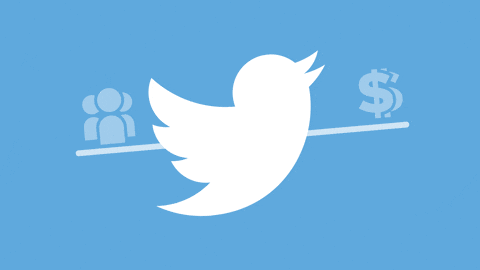 Twitter is a social networking 'microblogging' site where users sign in on their mobile phones or desktops to create, send, and read messages called "tweets".
Back in the day, users could only tweet up to 140 characters long, but now they have expanded the to 280 characters.
You probably have an existing account or have heard about it but never got the chance to use it to its full capacity due to the rise of other social sites like Facebook, Instagram, YouTube, TikTok, Snapchat, and a bundle more.
Twitter is a different breed of its own, and no, the bird is NOT dead yet.
Based on statistics, Twitter is very much alive and thriving with 330 million monthly active users with 145 million daily active users.
SOURCE: Number of Twitter users worldwide.
And 63% of users are aged between 35 to 65 years old.
SOURCE: Twitter Demographics: Age
This is a detailed age segmentation of Twitter demographics b conducted by Statista.
SOURCE: Global Twitter demographics by age group.
Twitter is still one of the largest and most engaged communities online and despite it not being number one on social media, it still holds its status and remains as the top social media platform for brands to be on until today.
Most importantly, the ability for brands to communicate is one of the main charms of Twitter marketing. There is no better social networking site for reaching your customers and engaging with them directly, other than Twitter. If a brand can reach out to their customers and build an authentic connection with them, there will be a higher chance of growing your business. If you think your brand needs a social media marketing facelift, let's have that one-on-one.
How the platform works is simple, but there have been many changes along the way to make it more happening and social on the platform. Once you have your Twitter account, you will be allowed to follow other users or brands that spark your interest. After following them, you can see their tweets in your Twitter timeline.
You can also opt to create your tweets or retweet information that has been tweeted by others. Retweeting is a term on Twitter that refers to sharing information that may come from users or brands you follow that can be shared quickly with a large group of users.
What is a Twitter Marketing Strategy?
For some businesses, Twitter marketing is still very relevant. A Twitter marketing strategy is a plan that focuses on crafting, publishing, and distributing content for your targeted audience, buyer personas, and your followers on the social media platform. The goal of every marketer or business owner on this platform is to create a sustainable strategy to generate new leads, followers, boost conversions, increase engagement, and drive sales for your business.
To create a feasible Twitter marketing strategy, you can follow these standardized steps to creating a social media marketing strategy.
Research your target audience and create a buyer persona.
Creating compelling content that resonates with your audience.
Create an organized calendar to keep track of social media posts.
Keep track of your KPI & Metrics.
You're still wondering why you should invest your time and effort on Twitter?
Here are some key benefits to get you warmed up:
It is a great marketing tool to use alongside other prominent social media platforms.
It's free.
Enables you to promote branded content in a matter of seconds.
Expands your reach.
Provide direct and quick customer support and service.
Works as a search engine tool to spy on your competitors and their marketing tactics they're using such as their content and also to make you more discoverable to potential prospects to learn about your company.
Enables you to communicate directly with your customers, share the latest buzz, and to acknowledge your audience, and establish a relationship with your audience.
How to use Twitter for business?  
Now that we have gone through what Twitter is and what is a Twitter marketing strategy, we can now proceed to how you can use Twitter for your business to improve brand awareness, build relationships with your customers, boost your conversions, and create a lasting impression of your brand.
1. Customize Twitter profile 
It's all about customization these days if you want to take that step further as a brand. Make sure all your social media platforms are aligned with the same logo, colors, and other crucial aspects that will make your brand memorable to your audience so they will associate your Twitter account with your brand. It's all in the tiny details that create a huge impact such as:
The Twitter handle is your brand name. For example, @Sephora is your Twitter handle. This is a crucial aspect so make sure your brand name is clear so you're easily discoverable to your followers and customers.
You can create a new Twitter account for your brand when you sign up for an account.
The header refers to your brand's background image on Twitter which usually includes your brand logo or a standardized branded image that you utilize across all social media platforms that makes your brand instantly recognizable. 
As a marketer or business, this represents your company holistically so it's best to keep it standardized across all social media platforms, so it is aligned with your brand image and reputation. It is the image situated right above your bio and usually includes a picture of your company logo, initials, and aspects that your brand wants to highlight.
Take your time with this section because you will need to summarize what your brand is all about in 160 characters or less. This is when your content must capture the user's attention. In Twitter, content is a priority for your brand because it is the nature of the platform. Make it catchy and engaging because if your content fails to pack a punch, it's time to educate yourself on the power of content for your business.
Situated just right beneath your profile picture and bio, you can slide in your URL to direct traffic to your website.
 You can include your company's birthday (optional) or the day it was founded in the same location as your URL. It's to add a personal touch so your audience knows more about your brand and just in case you plan to include a promotional strategy with your brand with the date. For example, the 11.11 Big Sale.
SOURCE: Dominos Pizza Global Twitter Account.
2. Create Twitter Lists
A Twitter list refers to an organized list of Twitter accounts you've personally selected and combined in specific categories for your viewing pleasure. For instance, you want to view Digital Marketing Pros, Target audience, Top brands, competitors, and other accounts that provide strategic value for your brand on Twitter. Once you categorize it and open your Twitter list, you will only see tweets posted by the accounts on your list.
By creating a Twitter list, it helps filter out the noise and increase your focus on Twitter and you can easily review the accounts of your competitor's posts, engagements, interactions, and easily spot high-engagement content ahead of your competition — who knows?
3. Congregate on a Twitter chat
On Twitter chat, your brand can host a Twitter chat to engage with all your followers to discuss trending topics, concerns, and build a sense of community and meaning behind your brand. By doing this, you're building relationships and connecting with your audience by asking for their opinions and input on a current project you're working on to get more insight into your followers and their interests.
To make this Twitter chat happen, you will need to select an interesting topic, schedule a time and date for the chat to happen. Be sure to include a designated hashtag and share this information in your tweet, website, Twitter bio, and relevant spaces on the platform. Any user that wants to partake in the Twitter chat you're hosting should be able to view the questions, responses, and comments based on your catchy hashtag and being able to share their thoughts by including the hashtag in their tweets.
Twitter chats help promote interaction and boost engagement on your profile and will create hype for your brand and also personalizes the experience between your audience and your business.
4. Twitter Advertising
The benefits of ads on Twitter are similar to advertising on other social media platforms. Advertising on Twitter is a great way to reach your audience and engage with them on a personal level and it makes your tweets easily discoverable by a wide audience — possibly thousands of people. This accelerates your following and awareness of your brand. You will need to set up a Twitter ads account first to create an ad campaign.
This is achievable through Promoted tweets and Twitter ads:
Promoted tweets appear in the Twitter streams or the search results of some users. This is a good option for brands that are looking to direct traffic to a specific website or page. A monthly fee will be charged to your business for as long as you're promoting a tweet.
Twitter will allocate your promoted tweets in a daily campaign and target the type of audience you want to reach based on the settings. All Twitter users are allowed to engage with your tweets like they do with organic content.
Twitter ads are a great option if you plan to utilize different types of tweets to achieve your marketing goals. This is good to grow your following and brand awareness throughout the platform.
It all depends on the objectives you intend to achieve with your Twitter ads such as do you want more app installations, increase video views, or website conversions, and the audience you want to target for your campaigns. Your decision will determine the price you have to pay for your ad. 
In the following topic, we will cover how to advertise on Twitter. Stay tuned.
 5.Drive traffic to your website
Twitter is useful if you want to direct traffic to your website, as there are many ways you can include your website's URL on your profile and incorporate additional links to your web pages and blogs via tweets. Here are ways you can use the platform to increase conversion and sales:
Add website URL to direct traffic underneath your bio on your Twitter account.
Add links to your website in your tweets.
Retweet content that has direct links to your website or blog content that users have shared.
Set up a Twitter ads account to direct users to a specific webpage on your website or the intended page.
 6. Use Twitter moments
These moments are like an album of tweets that revolve around a specific topic, trend, or event. Think of it as like an album collection of your favorite songs, except on Twitter, it's for the top moments or collection about a topic such as News, Entertainment, Fun, and more categories. It helps create more focused brand visibility. For example, if your brand wants to commemorate a special occasion or a company event, all this is a good angle of "Moments" to add that memorable feel.
Note: Moment creation is only available on twitter.com. It is no longer possible to create a Moment from your Twitter for iOS or Android app (Twitter, 2020)
Here's how to create a moment on Twitter for your business.
It might be a little foreign on this platform and not as user friendly so you might want to organize groups of tweets from your desktop or mobile to help you see the overall picture and market your brand, events, or campaigns, and anything relevant to your industry. This helps lift your marketing strategy by making your brand more accessible and boost your brand image.
7. Get verified on Twitter
Getting your profile verified on Twitter will only make your brand look more legit and professional, so you might want to try applying for that.
However, it also depends on the size of your company and the industry you are in as Twitter chooses to maintain its standards by only accepting verification requests of any prominent brands such as McDonald's, Starbucks, and more. The criteria for Twitter is that your brand must be related to specific industries such as fashion, journalism, politics, religion, sports, media, and several more key interest categories to be verified on Twitter.
Once Twitter verifies your account on the platform, you will get a badge with a blue checkmark on it and it will appear next to your handle.
To get your Twitter profile verified, it's best to double check to see if you match their criteria for the verification to take place.
 8. Build a brand following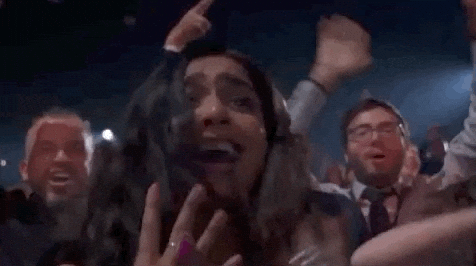 It is without question that the more followers you have on social media, the more people will notice you and bother interacting with your content by liking, engaging, commenting, and hopefully sharing it on more than one social site. This gives you the advantage to improve your brand awareness and direct traffic to your website when you establish a Twitter following.
Here are several ways for your business to increase followers on Twitter:
Provide shareable content
Use unique hashtags that are memorable and easy to remember (For example, #ThrowbackThursdays #TBT)
Create contests, giveaways, quick questions, surveys, and etc.
Collaborate with social media influencers that are relevant to your industry.
Add links to your Twitter profile on your website.
Connect with your current followers or fans and retweet their content and they might return the favor.
9. Twitter Fleets 
A new addition to the Twitter family are "Fleets" which are similar to the Instagram Story option, Fleets are a fresh new feature on Twiter that enables a user to share a fleet, fleeting, or in-the-moment thoughts as and when they feel like expressing themselves and it will vanish in exactly 24 hours. No commitments like a tweet post that will linger on forever. It's an option to keep the platform light and interactive if a user doesn't feel like being casual about their thoughts and would like to post random stuff, just because.
These fleets are only available and visible on Twitter mobile apps and any user is able to post texts, GIFs, images, and videos for that added interaction among users.
Setting up your Twitter Ads Account
Create a Twitter Ads account
A Twitter Ads account is how you can create, run, and analyze promoted tweet campaigns on Twitter. First, you have to sign up for a Twitter Ads account at ads.twitter.com. This is an additional account to your original account.
Your Twitter account is linked to your Twitter handle. For instance, if you have a personal Twitter account and a business account, you can log in to your business account and go to ads.twitter.com. From here, you can sign up for Twitter Ads and promote content for your business on Twitter. The Ads will display as being promoted from the business handle of your Twitter Ads account.
Take note that there is no difference in the process of creating a personal or business account on Twitter. The difference is how you decide to utilize each account. Also, to create a business account, you must meet the requirements and check if your account is eligible to be on Twitter for business and comply with the Twitter Ads Policies.
 Step 1: Go to Twitter.com
Step 2: Login from the Twitter account you would like to promote your tweets from, this will usually be your business account on Twitter.
Step 3: Once you're logged in, go to ads.twitter.com
Step 4: Here you will be able to choose two promotion options: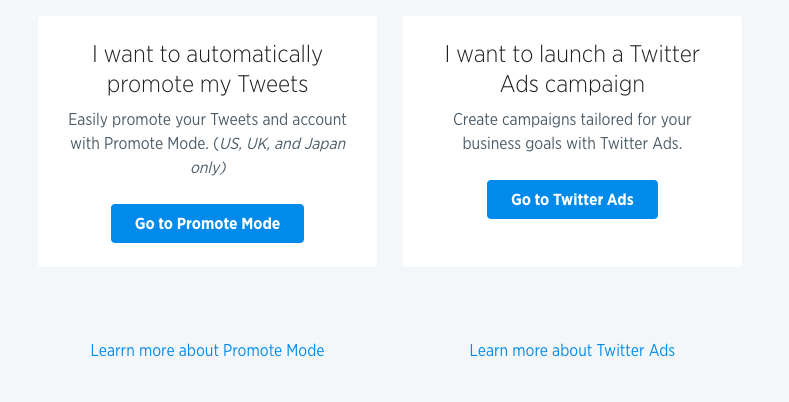 I want to automatically promote my Tweets. This option will direct you to sign up for Twitter Promote Mode, an automatic promotion program.
I want to launch a Twitter Ads campaign. This option will direct you to set up and manage our objective-based campaigns.
Step 5: Select your country and time zone and the exact currency you prefer to be billed in, along with the preferred time zone you would like your campaign results to display. Keep in mind, once selected, you will not be able to make changes once the account is created.
Step 6: In this step, you will be directed to the campaign setup form or Twitter Promote Mode setup, depending on your choice in step 4.
Step 7: Enter your billing information to complete your ads account and start your Twitter campaign.
Now that you've successfully followed the steps above and have set up your Twitter ads account, we think it's best to walk you through the types of Twitter ads available so you can make a more informed decision for your ad campaign.
Types of Twitter Ads
Promoted Tweets
Promoted tweets are like regular tweets, except that the advertiser is paying to display the content to reach people who are not following your brand account on Twitter yet.
Just like the ordinary tweets, they can be liked, commented on, and retweeted, only that they're labeled as an ad with the word "Promoted" on the lower left-hand side.
These promoted tweets are also able to contain video and will autoplay in the users' timelines (if the video is less than 60 seconds, the video will loop).
Promoted tweets, like for example Flo from Progressive will appear in a targeted user's timelines, user profiles, and on the top search results, and in the Twitter mobile and desktop apps.
Here's an example of an ad on Twitter by Flo from Progressive with an attractive, descriptive, and sarcastic twist which encourages buyers in Progressive's conversion funnel to convert. As an insurance company, they don't even mention the word "insurance" because the ad is targeting an audience that probably knows that Progressive is an insurance company whichever stage they are in when it comes to the funnel.
         SOURCE: Flo from Progressive Twitter ad.
Promoted Accounts
This type of tweet is the type of Twitter ad that promotes your brand's entire Twitter account. It targets users who aren't following your brand yet and helps you grow your Twitter following.
Promoted accounts are situated in the follower's timelines and will also be displayed in the suggestion corner where it says, "Who to follow" and in search results.
They also have the label "Promoted" and include a follow button.
Here's an example of a promoted account ad on Twitter.
SOURCE: The Sandwich bar promoted an account on Twitter.
Promoted Trends
Trending topics are happening and also a high-turnover list on the right-hand side of your Twitter page. Trending topics comprises the top topics and hashtags being used in real-time.
Users are able to interact with a Promoted Trend the exact same way they interact with other trending topics on their timeline. The only difference is that the space the brand has purchased will mention "Promoted" to the target audience.
A promoted trend will show up as one of the first under the "Trends for you" section, the explore tab, and the timeline. Once the users click on the promoted trend, they will notice search results pop up with that topic with a promoted tweet from the advertiser's brand at the top.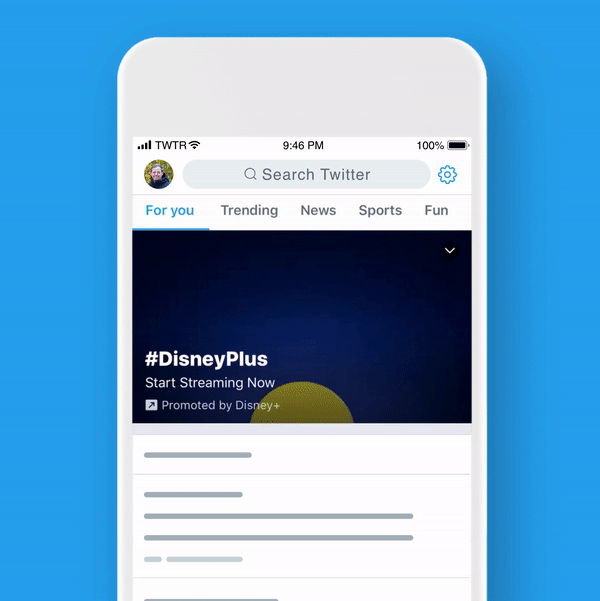 SOURCE: Promoted Trend by Disney Plus.
Promoted Moments
Promoted moments are like Twitter moments that are created via desktop and acts like a curation collection of selected tweets that tell a story no longer than 280 characters.
Twitter helps brands stay relevant at the moment with the use of Twitter Moments which is growing popular among users due to its high relevance that gives audience content they want to see or hear from.
Now, advertisers can sponsor Moments from premium content partners and reach audiences at a larger scale while viewing content they are interested in.
These sponsored moments allow advertisers to promote their moment to a specific audience, with a branded cover that will expand their reach to the people who matter.
Here's an example of a Promoted Twitter Moments feature.
Automated Ads
Automated ads are great if you're not sure how much budget to allocate to your ad spend or have limited time. This Twitter Promote Mode is useful as it automatically promotes your tweets and your brand's profile. Coined by Twitter as "always on advertising solution" basically how it works is that the first 10 tweets your brand creates daily will be added to a Promoted Tweets campaign and your selected audience is targeted.
Think of this Twitter Promote Mode as a Promoted Account campaign whereby it helps you distribute your Twitter ads, and it doesn't require your brand to put in the extra effort to set up individual ad campaigns when time is not on your side.
This automated mode of Twitter advertising costs a flat rate of $99 per month and your tweets are expected to reach an additional 30,000 users. That's a pretty good deal if you don't have time on your hands and it allows you to attend to other areas to improve your business.
How to advertise on Twitter?
1. Set up your Twitter Ads Account
If you aren't familiar with Twitter ads, you will need to set up an account (refer to setting up your Twitter ads account in the previous section when you're ready to set up your Twitter ads account). All you have to do is log into your Twitter account and head to ads.Twitter.com. Enter your country and time zone then click Let's go.
By doing this, it will grant you access to Twitter Ads Manager and its features such as tracking your ads, checking engagements, and analyzing your campaign metrics.
SOURCE: Twitter Ads Manager
2. Select your Ad Objectives
Reflect on what you intend to achieve with your Twitter ads, as your campaign objective determines which type of engagement and actions you will be paying for. You can choose the following objectives:
Awareness
Reach: To maximize your reach, you must pay for impressions (cost per 1,000 Tweet impressions)
In-Stream video views: You plan to run a short video ad at the start of videos from Twitter's premium content partners. You will be billed per video view.
Consideration
Video views: You want to reach people with videos or GIFs. You will be charged per video view.
App installs: You want to encourage users to install your app. You will be charged for app install.
Website clicks or conversions: You want to direct people to your website. You will be billed per click.
Engagements: To maximize your engagement with the use of promoted tweets. You will be billed per engagement, but only for the first engagement with each user.
Followers: You want to increase your Twitter following. You will be billed per follower you receive.
Conversion
App re-arrangements: You want people who already have your app to utilize your app. You will be billed per each app click.
For this example, our objectives will be to increase followers and build an audience for your business account.
SOURCE: Campaign objectives
After clicking on the "Followers" objective, this will lead you to a "Campaign set up" screen. Name your campaign here, choose how to make the payment, set your campaign budget, and choose to start the campaign or schedule it for later.
How much do Twitter ads cost?
For Twitter, there is no minimum budget to advertise on the platform, you will determine the cost with your choice, so it can range as much or as little as you prefer.
The budget that you set is the total amount you will be paying.
Once you've selected the options, click Next. 
3. Ad group setup and bidding
This is the "Ad group setup" section.
If this is your first Twitter campaign, it is advisable to stick to one ad group and in time when you're more comfortable with Twitter ads, you may split your campaign into different categories to target a wider group of audiences, utilize different ad creatives, and experiment more.
Name your ad group and set a start and end time that suits.
In this section, you will determine how much you're willing to pay for each interaction according to your desired budget. However, if you select automatic bidding, Twitter will set your bid to get the best results at the lowest price according to your budget.
This is a safe way to start if you're not so familiar with this social media platform just yet and are curious about the bidding process.
4. Your target audience
The targeting options are direct and help you choose your desired audience based on your ad to maximize your budget potential.
First, you can start with demographic targeting and define your audience by the following:
Age
Gender
Location
Language
Technology
When it comes to location targeting, you can get very specific with the area or postal code you wish to target. The technology allows you to target by device, carrier, or OS version which is very helpful for brands.
The "Audience features" section enables your brand to target your ad to users based on specific interests like consumer behavior, interests, events, and specific keywords and TV shows the users tweet about.
As a guide, the interface provides an estimated audience size that changes based on additional options to your campaign.
You can choose to upload your own list from your email database or if you choose to target lookalike audiences.
Once you're done with your choice, click Next.
5. Select Ad Placement
On the right-hand side of the screen, you can select where you want to display your ads. Once you've selected, click Next.
SOURCE: Twitter Ads
6. Prepare for take-off!
You can finally review the overall options you've selected and click Launch Campaign to launch your ad.
Not familiar with the platform and need some help with your Twitter Ad campaign strategy? Let's strategize!
Quick Actionable Tips: 4 Types of Tweets you should be posting on Twitter 
Ever wonder how some brands use Twitter to engage with their audience? Here are some super actionable tips by Phil Pallen, successful Brand Strategist and owner of Phil Pallen Collective and we will be referring to his content framework because it's clear, concise, and easy to implement into your content strategy.
Believe it or not, only one of four tweets should be about you because that's the number one mistake most people make on social media, they talk about themselves when really, it's about others. Social media is not a tool for broadcast, it's all about conversation. Let's dig into the framework!
SOURCE: 4 Types of Tweets you should be posting on Twitter.
A link will take people somewhere where people can engage with you for longer.  Self-promotion, on the other hand, means people will engage with you for about 5 seconds but when you link it to something you've created, like a blog post, people might engage with your brand for 3 minutes instead of 3 seconds. Big difference.
As a marketer or a business owner, you should balance it out with QQ with on-brand questions and off-brand questions.
An example of an ON-brand question is what social media platform drives you nuts? As it's quick and easy and most people have an opinion.
An example of an OFF-brand question could be do you prefer coffee or tea? It works because we are all human and it appeals to all. Sometimes you want to be human and keep it real.
The opportunity that you have to reinforce the fact that you're an expert in whatever you tell us your brand is. Remind us that you know what's up from statistics, facts, quick tips, and anything that is simple, actionable, and shows that you're an industry expert. This tends to be the tweet type that gets the most retweets. Retweets are important because essentially, it's getting your brand out there in front of other people's audience and that's a key element to growth on social media. It doesn't necessarily mean all your retweets will drive crazy growth, but you could gain new followers and build brand awareness because there's a psychology behind the thought of someone saying "hmm…I couldn't have said it better myself, so I don't have to" and they just retweet the tweet. Makes sense, right?
It's the most important type of tweet and you can directly reach your audience. But of course, put some thought behind it before you reach other people on Twitter. For example, if a celebrity has a book that you read. You could say "Hey @Celebrity, loved your book and your perspective on entrepreneurship. I feel very inspired."
This shows that you've put more thought into what you're saying. Something more specific that shows you've done your homework is exponentially more likely to be retweeted.
Conclusion
In a nutshell, this iconic bird, Twitter is not a platform for everyone — it takes the ultimate content marketing sorcery to make magic happen on any form of social media — especially on Twitter.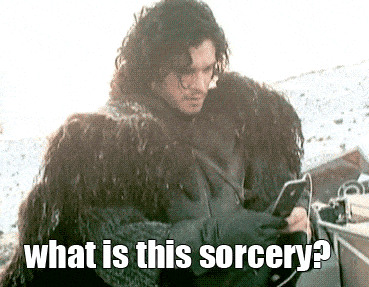 I believe that Twitter acts as a good support system when pieced together with other social media platforms like Facebook, Instagram, and more.
However, even if there are 330 million monthly active users and 145 daily active users on the platform, I don't think it's a platform to rely on wholeheartedly to carry the weight of your brand.
It is a platform suited for the big boys out there that are already established, like Starbucks, Pepsi, Coca Cola, and more. But I must admit it can be quite a climb for startups that are still figuring out their brand identity and trying to make something out of themselves.
If you want your brand to create massive hype and stand out in this content fueled platform, drop us a line or check out our sorcery!
Although Twitter still remains at the top as one of the largest and most engaged communities online, it's difficult to thrive on the platform if your social media marketing content strategy is not well rounded just yet. It relies heavily on well-crafted content and a sustainable social media marketing strategy.
Again, I repeat, Twitter is a different breed and it's not easy to stand out when content is so fast-paced on this site. It's a platform you will want to use for your customer support or service you provide, but not to brand yourself if you're still a growing brand. You will need to create a special type of content that's out of this world to inspire your audience.
If your brand needs a solid social media marketing strategy, you can count on us to make it to the top!