10 Types of Copywriters & Copywriting For Your Business ???
.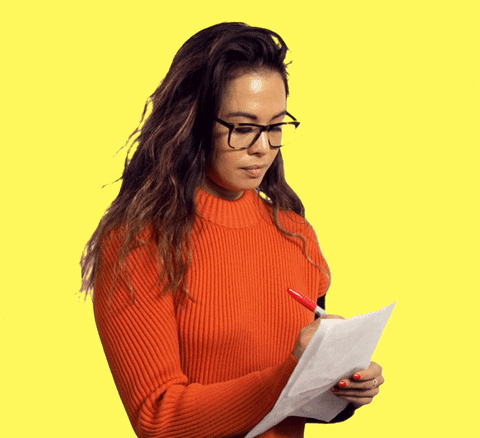 The stereotypical copywriter may be spotted wearing quirky glasses, armed with a notebook, and their favorite pen — perhaps a laptop to take notes these days. To be honest, that's pretty darn accurate!
The common misconception about copywriters is that they're just word slaves needed to fill in those gaps and empty spaces online. But,  did it ever occur to you that there are different types of copywriters who possess different skillsets in digital marketing? Well, I'm here to classify the difference for your business. Let's get to know them better, shall we?
What do copywriters do? ??‍♀️
Generally, what copywriters do is that they are instructed to create clear, concise, and relevant copy to sell products or to engage customers. Their works are usually displayed on blog articles, website content, product descriptions, email blasts, newsletters, banner advertising, paid advertising, whitepaper, eBooks, and social media platforms such as, Facebook, Instagram, Twitter, TikTok, and any site that accommodate marketing content.
Copywriters are also capable of brainstorming certain concepts and ideation-related captions that require the pairing of enticing imagery. They may also be needed to work closely with marketing and creative departments to develop communication strategies.
But their main scope is to ensure consistent brand messaging, such as the brand voice and tone, across traditional advertising such as print, TV, radio, direct mail, and etc, or digital advertising throughout social media channels.
A typical day in the life of a copywriter would be:
✅ Research a topic online.
✅ Conducting an interview/survey.
✅ Figure out how to convey an idea to a niche audience.
✅ Write & edit copy.
✅ Source for relevant imagery to pair that is in sync with the copy.
Copywriting Defined ?
Now that you understand the job scope of what copywriters do, we can proceed to what copywriting is.
Copywriting is the content and driving force behind the action of consumers. Whether it's to get your consumers to download an app, click a button, get their free trial, or make a purchase, content is responsible for guiding them there. Find out more about the right content for each stage of a buyer's journey for your personal gain.
The right content may come in many forms like infographics, video scripts, blog posts, and any outlet that conveys a message of any kind for the audience to view.
Just to clarify, journalism and copywriting are NOT the same. Copywriting involves a more precise form of text that is used to promote a brand, product, or service which is usually found in advertising.
Copywriting usually appears where there's an audience:
✅ Online web content (websites)
✅ Pop-up advertisements
✅ Banners
✅ Infographics
✅ Social media captions/ ads
✅ Emails
✅ Traditional advertising formats such as billboards, print, & public transport.
✅ Radio
✅ TV
To find out more about content types, refer to our Business Bible: 114 Types of Digital Content.
Copywriting content can be created by anyone who is skilled in a specific type of writing, but many companies tend to save costs and make their in-house marketing department be in charge of the content, which is quite risky because they are not experts in the field of copywriting.
Hiring the right copywriter may be tricky because as I stressed before, there are several types of copywriters and most of them are only good at one or two types of written skills.
To ensure your content is successful for your overall digital marketing campaign, it's highly recommended you team up with a full-fletched agency with the right copywriters dedicated to building your business.
Still curious to find out more? Here are the 10 types of copywriters & content you need to know for your business.
10 Types of copywriters & content ???
1. The Creative Copywriter ?
The creative copywriters live in a world of their own and have a magical gift of being able to deliver messages in short and snappy phrases that pack a punch!
These gifted wordsmiths see opportunity with the simplest pairing of words that other copywriters struggle to see. These word wizards are very comfortable in consumer ad-land, where they get paid large sums to come up with the big idea behind it and excel at attention-grabbing concepts. They craft killer ad copy on social media that drives results.
Brands like Coca-Cola with their catchy brand taglines like "Always Coca Cola" and McDonald's "I'm Lovin' It", and Nike's "Just Do It" are all the simplest of words but create such high-impact. Creative copywriting aims to get you to remember and associate strong feelings towards a brand. Usually, it establishes a strong positive connection between the consumer and your brand, making it impossible to forget after that. Just like magic!
Here's an example of Synergy XYZ's creative and AR-infused creative blog which targets straight for the reader's hearts. Explore the filters!
Their Forte: Headlines, captions, campaign concepts, and ad copy.

Business Value: They create the simplest lines that grab attention and make your brand memorable.
2. The Digital Copywriter ?‍???‍?
I just want to highlight that a digital copywriter and differs from a digital content writer as digital copywriters write to sell and content writers write to educate the audience.
While most might share the same skills as copywriters who write offline materials such as printed pamphlets, brochures, magazine catalogs, and a world of digital content to explore!
However, despite the similarity in writing capabilities, digital copywriters strongly excel at online content, such as on the website landing page copy, blog and article writing, craft compelling social media captions and posts, and writing emails.
So, basically the largely-unsung microcopy you see online that directs the website visitors and app users to click on the right buttons with the precise information, leading visitors to click on a call-to-action is the responsibility of a digital copywriter. They determine what your CTA button should say such as "Start your free trial" or "Start my free trial" or "Subscribe today" or "Subscribe now".
That single word change might not make a difference to you, but it could make a huge impact and 90% increase in your conversions, according to an experiment conducted by ContentVerve.
Their Forte: On-page navigation copy & flow, microcopy, button copy, calls-to-action, social media copy.

Business Value: They write the type of copy that piques curiosity to get people to see what your brand is offering, convinces & converts a select audience to buy or act on a decision that meets your marketing goals.
Here's a clear example of digital copy that works on the male audience without a doubt by Manpacks — Build a Manpack. It works because men reading this will think to themselves "Now, you're speaking my language."
3. The Marketing Copywriter ?
The marketing copywriter is part writer, part mind reader as they know how to get the buyer's attention and how to incite positive feelings that your product is the ultimate solution that will solve their pain points.
A good marketing copywriter will immerse themselves in buyer personas until they fully grasp the target audience more than they know themselves, With all that insight and understanding, they will write copy tailored to meet the needs of that audience with inspirational, educational, empathizing, or even alarming content to shift prospects towards the end of the sales funnel where they act on a purchase decision.
These types of writers are able to develop, make a statement in an appropriate tone and manner, in a long-form content piece.
So, if you've got an amazing product and service, a marketing copywriter is able to transform your features to easy-to-digest benefits that resonate with your audience.
This type of content is used to build trust by informing and educating the audience in the form of articles, advertorials in online publications.
It all depends, it can even be full website copywriting which presents a credible image through selected words, impeccable tone, grammar, and flawless spelling.
But in essence, it converts your audience's awareness into pure interest.
A great example of marketing copywriting content like this would be Slack's homepage as it builds interest and you just keep wanting to scroll on.
Their Forte: Email campaigns, eBooks, video scripts, and similar content nature.

Business Value: Developing a strong emotional bond between brand and buyer.
Check out this cool example by progressive and interactive brand, Slack.
4. The Advertising Copywriter ?
When working with other creatives of similar wavelengths, advertising copywriters use their brilliant writing skills to create and deliver imaginative ad copy for their clients.
Usually, advertising copywriters work alongside an art director in the creative department of an agency, where they brainstorm on the idea, ideation of what type of content format suits best, and try to go through the client's brief together to develop an effective advertising campaign.
The main focus of a digital copywriter is to provide the written words to develop an effective ad copy through skillful content marketing which is crucial for your business.
An ad copy usually includes:
✅ Headlines, slogans, taglines, catchphrases, captions, and etc.
✅ Writing for web advertising, such as social media ads.
✅ Crafting content for radio jingles, videos, TV commercials.
If you're spending too much on your marketing ad budget and it's not driving the results you desire, it's time to spend wisely on a professional A-team.
Their Forte: Paid ad copy and social media ads.

Business Value: Campaign, ideation, and developing creative & impactful ads.
Here's an example of Mcdonald's iconic "I'm Lovin' It" tagline.
5. The SEO Copywriter ??
Want your audience to recognize your brand? This is where SEO copywriting comes into play and helps you rank on the top of search engines so your brand content is easily visible!
For articles to rank, they need to offer valuable and relevant content that users will find useful. But this is no easy feat to achieve, it takes a lot of research and dedication.
While the articles are already known to the existing customers, the posts are SEO-optimized with strategic keywords integrated into one. This is what helps their content to be discovered on search engines, organically driving traffic to their company's website or landing page.
With the newly updated Google algorithm, it's making it even more challenging for SEO copywriters to rank at the top. This is when they need to step up their SEO game by more research, understanding of the audience, and current trends to key in effective keywords. The modern-day SEO copywriters today can be a marketing copywriter, explainer copywriter (will get to that one soon), and a brand storyteller where they craft impactful, original, and engaging content that genuinely helps the audience with useful information.
SEO copywriting can be seen in the form of:
✅ Blog posts (much like this one)
✅ Articles on external online publications.
✅ Web copy (homepage, about us page, and more).
✅ Product descriptions
The goal of an SEO copywriter is to help your website rank for keywords that people will search for with the intent of finding information, which drives your targeted and organic traffic to your site.
This is done by:
✅ Conducting prior research in which keywords to target — be it long-tail or short-tail type of keywords for specific Paid-Per-Click Ads.
✅ Evaluation of gaps in currently ranked content.
✅ Crafting content in a way that fills the gaps while remaining favored by Google.
For example, if you're passionate about copywriting and interested in the field, you might've searched for "types of copywriting" or "types of copywriters" and the search results led you here.
Their Forte: Determining select keywords,  blog posts, online articles, web content, and what ticks the audience.

Business Value: They assure your site ranks at the top of searches.
You're not going to miss this ad, that's for sure. Sometimes you got to go big or go home if your ads don't work, you need to rethink your strategy.
Just like this brand, their initial and typical weight loss ad wasn't alarming enough, so they decided they wanted to use the emotional trigger tactic with something LOUD and GROTESQUE, And it worked. They gained a 47% higher click-through rate than the original ad they displayed. Curious? Let's find out here below.
So, if you're looking for your brand to be discovered, why not consult with the digital experts in the business.
6. The Explainer Copywriter ?
The explainer copywriter is a rare breed that can even convince the conservative prospects as they are able to reflect on the gravitas of the financial decision and how reliable the brand is to deliver.
To pull this off, it doesn't mean jargon-filled and boring content, in the same way, The Economist or Financial Times can pull it off, so can a skilled writer of a similar caliber. It is indeed a gift to convey information in a serious, yet engaging way.
This is when the explainer copywriter's services are needed because they know how to present logical a logical case for investment when it comes to technology, investments, or a product that requires a succinct and clear delivery that makes it easy to read.
Their Forte: Pull copy, white papers, datasheets, long-form blogs, product/demo video scripts, and guiding through the use of instructional explanation.

Business Value: Building an internal business case for investment and presenting the value of a brand in the digital landscape based on the respectful industries.
Check out this blog here by Synergy XYZ as they explain how to use TikTok in a light and engaging way!
7. The Brand Journalist (Storyteller) ?️
In a world filled with digital clutter, it's hard to cut through all that noise and have your brand stand apart from the rest. You notice that the ones that stand out are the ones with quality content about their product benefits, their brand ethos, and interesting facts that manage to capture interest and attention.
That is when the brand storyteller comes into play and gives a new twist on copywriting by telling impactful stories that are gripping.
The good ones uncover stories and use similar techniques applied in journalism that you may have come across in magazines or newspapers which may include interviewing the experts, customers, and reporting a certain news topic. Having a nose for a story and making it broadly relevant and captivating is what these brand journalists are trained to do. In other words, they're ninjas at newsjacking current topics and promoting one's brand.
With the brand journalist's ability to curate ideas and opinions, they usually incorporate some multimedia elements and use supporting facts, graphics to craft a well-written copy that's refreshing and enjoyable to read.
Their Forte: Blogs, articles, case studies, curated pieces, different types of multimedia elements.

Business Value: They make your website more valuable and a must-visit type of website.
This is one exemplary brand that I usually use as an example because they thought it through, from the content to their ethos, so they deserve some credit. Applause for the brand, Patagonia. 
8. The Technical Copywriter ???‍?
Most copywriters are — let's be honest — pretentious and struggle to comprehend the features of a product they're promoting in-depth.
However, the technical copywriter is a rare and valuable species, a hybrid of a true techie and writer in them. These hybrid creatures can explain everything clearly and simplify features to the end-user
Always keep in mind that to educate is to sell and when your audience has specific pain points that need solving, you want to provide solutions so they see you as the industry expert and it plants trust in your brand. In turn, this makes your targeted audience more open and receptive to your offers.
Technical writing pulls this off by going in-depth without overwhelming the audience with information overload. They guide newbies, amateurs, and even experts with their easy-to-read guides that are not complex to read.
You may find this type of sorcery through:
✅ eBooks
✅ White papers
✅ Detailed Blog posts, articles  (in-depth)
Their Forte: Datasheets, user manuals, FAQs, detailed articles & blogs, and technical instructions of any kind.

Business Value: They keep users satisfied and reduce customer complaints.
This example here is another good example of how technical writing can get. But it's been simplified already by the INNONDARCHTECH team.
9. Public Relations Copywriter ? ??
Copywriting usually aims to tell the world about how good you are, whereas public relations copywriting focuses more on getting others to share about your brand.
The art of public relations (PR) copywriting revolves around events or moments that seem worthy of coverage, intended for media coverage in hopes it spreads like fire.
This type of publicity will seem more credible in the eyes of the public since it seems like it's coming from an unbiased standpoint from reputable sources.
It's no easy feat being a public relations writer as you have to have great discipline with vocabulary usage, sentence structure, and avoid wordiness, which is not as simple as it sounds.
Public relation Copywriters practice:
✅ Simplified sentences (No use of unnecessary adjectives such as really, very, kind of, etc.)
✅ Direct & Straight to the point (For example, instead of "Why was the whole cake eaten by Felix?", you can simplify it to "Why did Felix eat the whole cake?" instead.)
✅ Minimal Adjectives (For example, instead of the Petronas Twin Towers aren't really that tall" use "The Petronas Twin Towers stands 1483 feet (452m) tall.")
✅ Keep an eye on common word mix-ups (For example, Your and You're.)
✅ Action Verbs (For example, "Cut your hair" instead of "Give yourself a haircut.")
All these rules help simplify your brand message to the media and press and get your audience's attention and trust more easily. You can find PR copywriting In the form of:
✅ Press Releases
✅ Sustainability reports
✅ Statements
✅ Corporate social responsibility projects
✅ Spreading publicity about new product releases
✅ Recover your company's reputation if any bad press happens. An example would be Apple's 2019 Environmental Responsibility Report here which displays their efforts at taking care of the environment and their good practices.
Their Forte: Summarization, simplifying sentences, breaking down heavy information into readable articles.

Business Value: They make it easy-to-read and absorb for the press and audience so it can easily be shared.
10. Social Media Copywriter ⭕?
Is there any brand you like in particular when it comes to social media platforms such as Facebook, Instagram, Twitter, or others?
Perhaps you managed to come across their social media posts with a captivating image, video, GIF, or a type of content you found valuable. Perhaps, you would like to assign an agency to replicate or enhance that type of content for your brand? Synergy XYZ is here for you!
Social media copywriters aim to interact and engage and engage the audience through quality content and posts that offer the viewers something valuable to keep in mind.
Social media copy focuses on the content's distribution and how easily shareable it is across social media platforms, therefore the content is easily repurposed to adapt to other social media platforms.
Facebook is fun, with a little more serious and long-form content, Instagram exudes lifestyle content, and Twitter narrows down current news updates with a limited word count of up to 280 characters due to the platform's fast-paced nature. Bear in mind, each social media channel has a different way of conveying information, which is why you must always repurpose your content to suit the audience of any social media platform you're in for your business.
Their Forte: Masters at understanding the platform layouts, relevant content, and formats that work well with their social media captions.

Business Value: Hits two birds with one stone by creating one social media caption to be shared & repurposed across all channels. More cost & time efficient.
Here's an example of quality Social Media Copywriting on different social sites. Check out The Home Depot as they celebrate the CEO's Birthday inline with Women's history month to capture the reader's attention.
Another killer Aesop Instagram example on the feel of the brand content delivery through a short video.
A cool short video to capture your attention while you read their killer social media copy. I would say their copywriting and their designs are the main reason Aesop stands out.
SOURCE: Aesop's Social media copywriting
Here's an example of good quality copywriting on Twitter by Nike. Pay attention to how their fans reply to their Tweets and the casual tone they set with their customers. Together with their Twitter fans, they create awesome user-generated content that goes far for their social media efforts. Way to go Nike!
SOURCE: Nike's Social Media Copywriting Style on Twitter.
Conclusion ?
Overall, it's not just video or imagery that drives action, it's the copywriting that reinforces more power into these content types as a whole. Each armed with their own strengths and pieced together for the audience to view.
In a nutshell, we have covered the 10 types of copywriters, each possessing their own qualities and unique writing capabilities in the world of marketing.
And remember, copywriting comes in various forms, it may be in the form of video, social media posts, blogs, infographics, GIFs, and plenty more than meets the eye. If you haven't explored our blog entry on 114 types of digital content, I suggest you do now to get some creative oomph and inspiration!
I don't want to keep you waiting but as a business owner, you must make sure you've got the right team of experts behind your back that are equipped with a strong digital marketing strategy, copywriting that sells, and imagery that captures attention.